Roll Off Dumpsters
for Big or Small Projects
Bowie, TX
Your #1 Choice for Dumpster Rental Bowie Selections
Roll Off Solutions provides high-quality and reliable dumpster rental Bowie selections, making us the affordable and dependable solution to all of your trash management needs. Our team takes great pride in prioritizing dependability, friendly customer service, and the largest variety of roll off dumpster sizes in the area. When it comes to trash and debris removal, Bowie residents, property managers, and contractors rely on us for their short or long-term waste disposal needs.

As a locally-owned and operated business with a solid reputation for supporting our customers with all of their dumpster rental Bowie needs, we're confident we can provide the best service and support to your upcoming residential or commercial projects. We guarantee punctual delivery with special attention paid to your driveway or work site, ensuring we're leaving the property even cleaner than we found it. Avoid the hassle of multiple trips to landfills and ensure that your waste management is as simple as possible with one of our roll off services Bowie.

Over the years, our customers in Bowie, Texas, and surrounding areas have come relied on our staff to help their home improvement, waste disposal, and construction cleanups run smoothly. Locals prefer our waste management solutions to remove trash or junk because we offer reasonable cost of roll-off dumpster Bowie with high quality, dependable service. With just one phone call, you'll be on your way to ensuring that your waste disposal is fast, efficient, and hassle-free. Give us a call at (940) 531-8150 to learn more about your rental options and get started today!
Choose Roll Off Solutions for your Bowie Dumpster Rental
If you're planning to get started on a project and don't want to get bogged down by growing piles of waste or debris, a Bowie dumpster rental from Roll Off Solutions is just what you need to save time, money, and hassle. Manage your upcoming estate sale or get a jump start on your next development project with one of our dumpsters Bowie TX selections. Once you fill up a container,give us a call or text and we'll take it from there. Don't let the uncertainty of waste disposal stall your project. Rent a dumpster in Bowie from our experienced team today!

We offer a variety of Bowie dumpster rental sizes to accommodate any job. Our friendly and professional representatives can assist you in deciding the appropriate container size for your project, whether you need a dumpster service Bowie Texas for residential yard maintenance or are looking for ongoing waste management support for your growing business. Let us know what project you're working on and we'll get you a DFW roll off dumpster rental Bowie TX to help you manage the debris.

Our trash dumpsters Bowie are available in 10, 15, 20, and 30 yard sizes, which makes us the one-stop shop for projects of any scale or scope. Over the years, we've become one of the trusted dumpster companies in Bowie and deliver excellent customer service along with versatile options. We regularly work with the Bowie Southeast Landfill to dispose of waste in a responsible way in accordance with all city, county, and state regulations. Contact us now at (940) 531-8150 to schedule a budget dumpster rental Bowie, TX.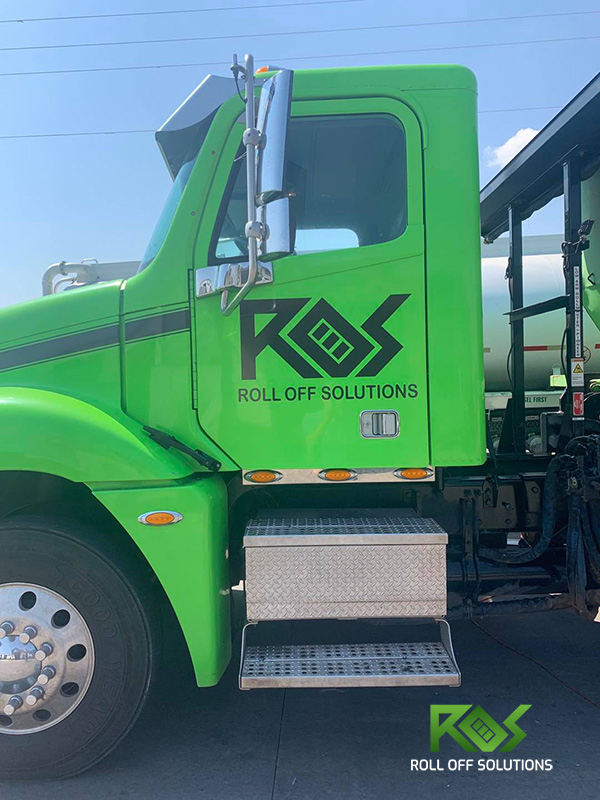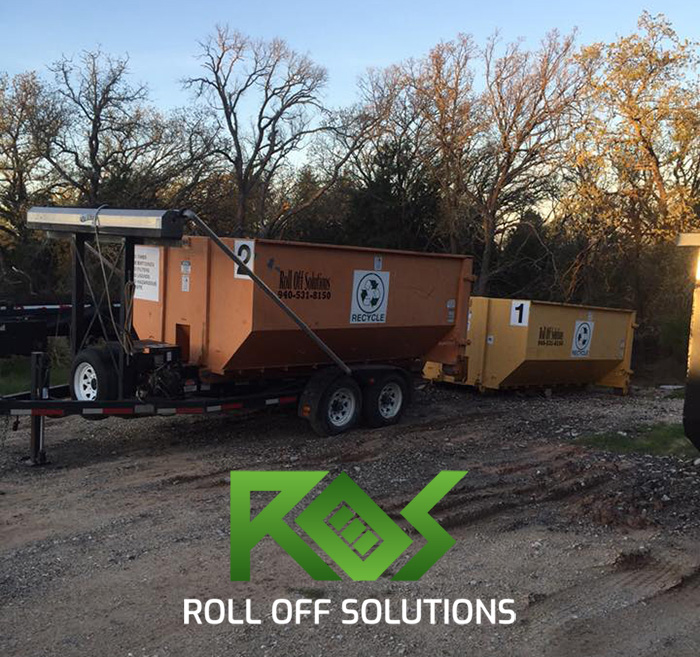 Various Convenient Uses for Dumpster Rental Bowie TX
There is no project too big or small that one of our dumpster rental Bowie TX selections can't handle. Get a roll off bin delivered for any project, whether it's a small home improvement or a larger-scale commercial development. We provide a range of solutions for your next routine yard or landscaping care, a single-room remodel, home cleanout, roofing replacement, or a demolition job.

We're confident that the combination of our many versatile sizes and 5-star reviewed customer support will help make your project an absolute success. Our cost-effective, trustworthy, and reputable dumpster rental Bowie TX options are well suited for a wide range of commercial and residential projects. Clean out the gutters, clear out the clutter, and manage your business with peace of mind that the disposal of any waste accumulated will be handled with the utmost care.

We regularly work with daycare facilities, contractors, restaurants and bakeries, apartment complexes, schools, and office parks to provide short or long-term professional waste management. Whatever your residential or commercial needs are for a trash roll off Bowie, we're confident we have the perfect solution for your waste management needs. Give us a call at (940) 531-8150 to rent your container today!
Reliable Residential Dumpster Rental in Bowie
If you're searching for a cost-effective waste disposal method, Roll Off Solutions has the residential dumpster rental in Bowie you need. We enjoy assisting homeowners in removing unwanted waste and enhancing their living spaces simultaneously. Don't allow damaged or outdated objects to take over your basement or garage space when a dumpster in Bowie TX is only a phone call away.

Residents and individuals regularly book our roll off rentals Bowie for a wide range of waste management needs including garage, attic, or basement cleanouts, landscaping, roofing repairs, home remodels or renovations, estate planning, appliance or furniture removal, and much more.

A dumpster rental in Bowie is the simplest solution to regain your space and get rid of the rubbish. Additionally, we offer the most affordable price of dumpster service in Bowie TX. Give us a call at (940) 531-8150 to get your roll off scheduled and start your project today!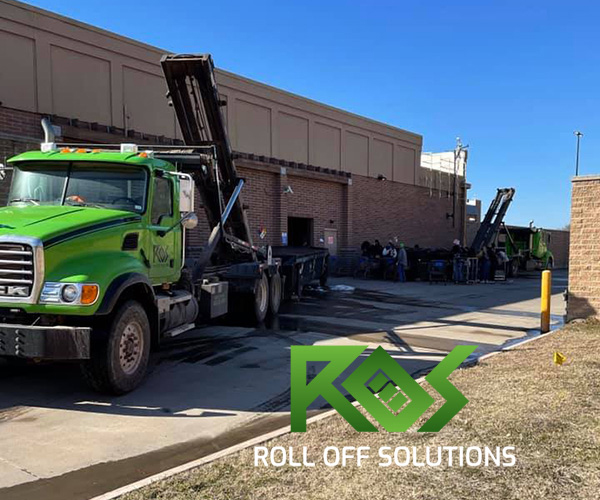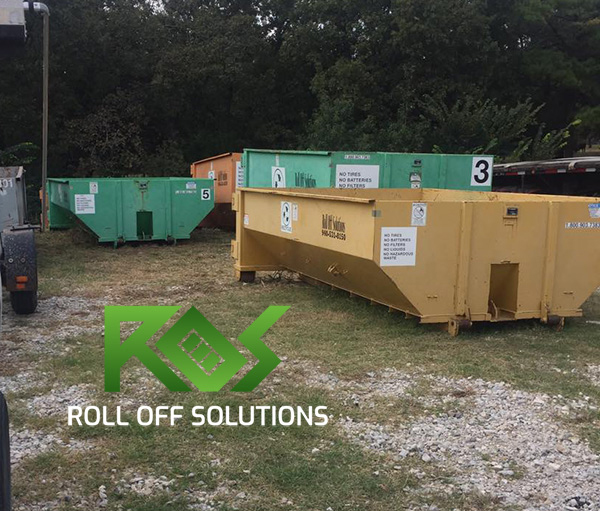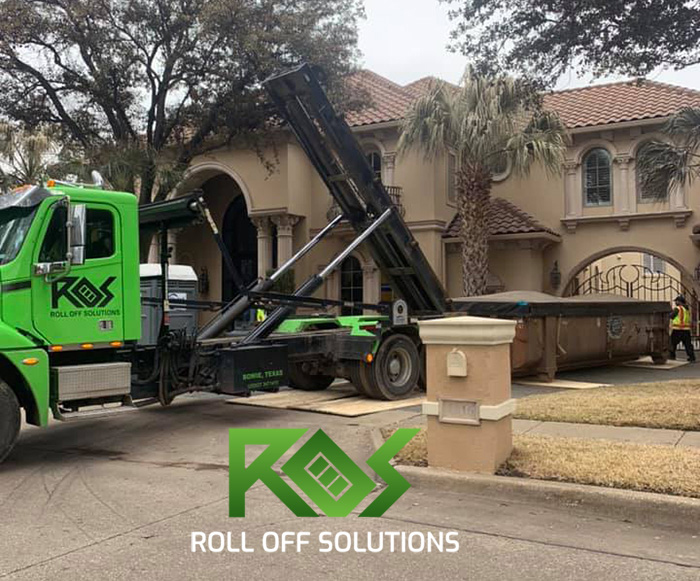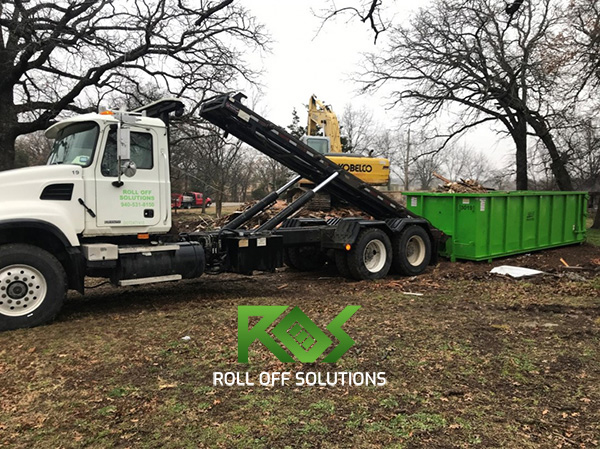 Dumpster Rental Bowie Texas for Yard Waste
Local homeowners and landscapers depend on our dumpster rental Bowie Texas for their small and large yard waste disposal projects. Don't let the leaves and branches pile up for too long. With the help of our services, you can get your yard cleaned up and looking its best in no time.

Are you wondering about the price of dumpster rental in Bowie TX? Roll Off Solutions is the local dumpster rental company that prioritizes affordable prices, on-time delivery, and top-quality customer service. With a budget-friendly roll off dumpster Bowie, you can easily clean up the yard, fill up a bin, and remove the waste from your site in one fell swoop. We work with homeowners to help support a wide range of yard projects including clearing out gutters, deck repairs, roofing repairs, landscaping, clearing out flower beds, and cleaning up brush after storms.

With our dumpster options in a variety of sizes, it's easy to get rid of trash from garden clean-ups, yard maintenance, and landscaping projects. Get in touch with us today to get a yard dumpster rental Bowie Texas to increase your curb appeal and complete your yard project today!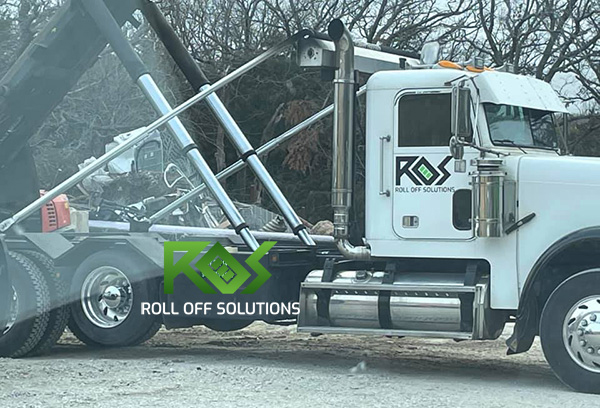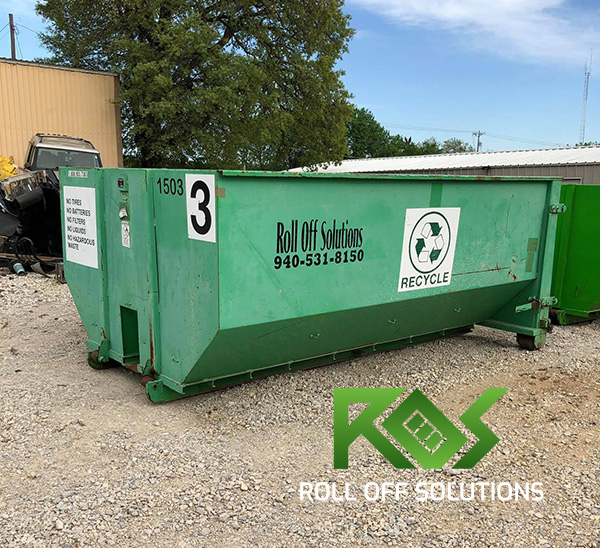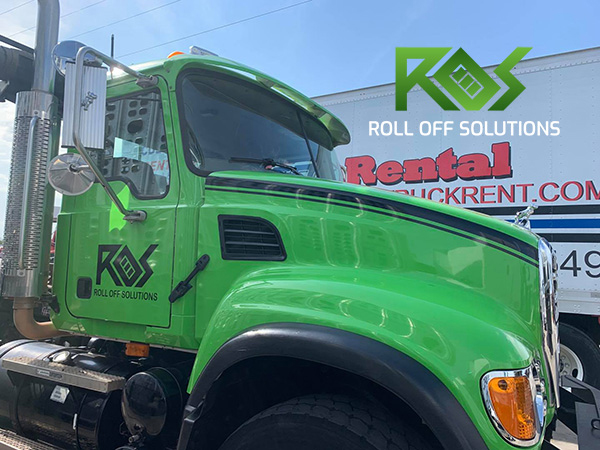 Construction Dumpster Rental Bowie
Contractors understand the importance of investing in a trustworthy and cost-effective construction dumpster rental Bowie from the team at Roll Off Solutions. With the added support of our easy-to-load roll off containers, your work site will stay waste-free and on track. Keep the waste in check with our experienced and dependable city of Bowie dumpster rental company that construction professionals rely on to get the job done right the first time.

You've come to the perfect location for a large construction dumpster Bowie. Our dumpster options can tackle the largest jobs with sizes ranging from 10 yards to 30 yards. Regardless of the scale of the project, a construction dumpster rental Bowie is one of the most essential pieces of equipment to have on-site. Our heavy-duty and sturdy containers are built to handle nails, lumber, piping, plasting, drywall, shingles, and other construction waste. You can count on us to deliver your waste bin on time and to haul it away as soon as it's filled, keeping your site waste-free and safe. Give us a call at (940) 531-8150 to schedule your roll off today!
Roll Off Dumpster Rental Bowie TX for Roofing
Whether you're repairing the roof of your own home or planning a development, we're confident our roll off dumpster rental Bowie TX will manage the waste so you can focus on the task at hand. Keep your driveway or worksite clean and safe with the support of one of our containers. Our durable roll offs can haul away shingles, tiles, lumber, and other roofing waste.

No matter what kind of roofing materials you're getting rid of, you can put everything in one of our roll off dumpster rental Bowie TX options and have it disposed of in one quick trip. From roofing shingles to sheet metal, Roll Off Solutions offers an easy-to-load dumpster disposal Bowie Texas that can handle it all.
We Take Just About Everything
Some examples of the junk we haul away include
Refrigerator Disposal

Garbage Removal

Mattress Disposal

Foreclosure Clean Outs
Construction Waste Removal

Yard Waste Removal

Trash Removal

Appliance Removal
Television Disposal & Recycling

Furniture Removal

E-Waste Disposal

Hot Tub Disposal
Trash Dumpster Rental Bowie for Your Business
Are you looking for an affordable trash dumpster rental Bowie for your business waste disposal needs? Roll Off Solutions delivers Bowie commercial dumpster options in small and large sizes to accommodate all your waste containment needs. Our business dumpster drop off Bowie is available for temporary service as well as ongoing garbage management. We regularly work with hotel managers, property managers, restaurant owners, office managers, and school administrators to assist with their short or long term trash dumpster rental Bowie needs.

If you're searching for Bowie one time dumpster rental cost, get in touch with our team today by giving us a call at (940) 531-8150. Contact us for an estimate if you are looking for a dumpster service monthly Bowie TX for your small business or commercial setting. Reach out today and we can discuss what your business needs are, and the perfect waste management solutions for you.
How to Rent a Dumpster Bowie Today!
When you're ready to rent a dumpster Bowie from our experienced, professional, and friendly team, it's as easy as giving us a call and we'll handle the rest! View our inventory of roll off containers on our website, choose between four convenient options, then give us a call at (940) 531-8150 to secure your rental at a time convenient for you. Our business hours are Monday through Friday, 8am-6pm, or you can text us anytime. We're happy to offer more guidance on which size dumpster rentals Bowie will best suit your timeline, budget, and project goals.

Take the next step and rent a dumpster Bowie from our team of experts by giving us a call or text at (940) 531-8150. We're the go-to provider of container rentals in Bowie because we prioritize cost-effective rates, friendly customer support, and on-time, convenient delivery. For all of your residential and commercial needs, we'll help make your next project a success.

Sizes For Every Dumpster Price Bowie
We're proud to offer an affordable dumpster price Bowie for every dumpster size. If you're not certain which size is the best fit for your upcoming project, tell us about your goals, timeline, and the amount of waste you expect so that we can point you in the right direction. We provide A+ dumpsters in Bowie and customer service. Take a look at the Bowie dumpster rentals we offer and what they're often used for below, and get in touch with us if you have any additional questions:

10 Yard: Mostly rented for small DIY home improvement projects or smaller scale residential jobs, the 10 yard is one of our most popular rentals. Measuring 12' long by 8' wide by 4' high, the 10 yard begins at $250 for up to seven days of rental time and one ton of waste included.

15 Yard: Great for larger residential projects like remodels or massive cleanouts, the 15 yard measures 12' in length by 8' in width by 5' in height. This container rents for $350 for up to seven days and includes 1.5 tons of materials.

20 Yard: This size can accommodate 8 pickup truckloads of trash and is the most popular junk dumpster Bowie size for house renovations, roof replacements, garage or shed removals, and cleanups. This container measures 22' in length by 8' in width and 4' in height. The 20 yard rents for $450 with up to seven days of rental time and includes three tons of weight.

30 Yard: Our largest rental, the 30 yard container is often used for commercial, demolition, and construction projects. Contractors love the size and versatility of this container option to help them accomplish their wide range of project needs in a timely and affordable manner. Measuring at 22' long by 8' wide and 6' high, the 30 yard rents at $550 for up to seven days and includes four tons of weight.

Residents, business owners, and construction materials trust our dumpsters Bowie Texas and our dependable waste management solutions for all of their project needs. You can see how much to rent a dumpster Bowie on our dumpster pricing guide. Get in touch with us by giving us a call at (940) 531-8150 to learn more about which roll off is the best fit for your project!
Learn More About Our Bowie Dumpster Options with our FAQs
We understand you might need additional information about our Bowie dumpster selections before booking your online rental, so take a look at our frequently asked questions below and contact us if you need any further details. We're confident we have the waste disposal solutions for all of your residential or commercial needs!

1) What can I haul away in a container?

Our Bowie dumpsters can haul away a wide range of materials and waste. Companies that manage roofing and construction operations use our dumpsters to get rid of roofing shingles and other building waste, while individuals rent dumpsters to get rid of yard waste and home improvement projects that require getting rid of drywall, flooring, and other trash. As long as your waste is not toxic or hazardous, we can haul it away in our Bowie dumpster rental. Hazardous materials include motor oils, asbestos, medical waste, gasoline, and paints.

2) What size dumpster do I need for my project?

We carry four convenient sizes of Bowie dumpster options that are beneficial for a wide range of projects. Our smallest size, the 10 yard, is ideal for most residential projects while our largest container, the 30 yard, best suits commercial or construction jobs. Depending on the volume of waste you plan on disposing of, we're confident we have the perfect rental to suit your needs. Get in touch with us by giving us a call at (940) 531-8150 if you're not sure which size to rent for your project.

3) How much do your rentals cost?

If you're wondering how much does it cost to rent a dumpster in Bowie, you've come to the right place. Enter your zip code on our site to get a free quote right away. The cost of renting a trash dumpster Bowie will depend on the dumpster size you need and how long you need it. Each dumpster size can hold a specified tonnage and can be rented for a certain amount of time with additional days and weight available for purchase. Our 10 yard begins at $250 while our 30 yard begins at $550. We understand you might be searching for a cheap dumpster rental Bowie, but along with affordable prices, we guarantee punctual delivery and exceptional customer service.
Providing Roll Off Dumpster Rental Bowie to Surrounding Areas
When residents in the area are looking for an affordable and reliable roll off dumpster rental Bowie selection, they know that the team at Roll Off Solutions will help them get the job done right the first time. Our delivery area includes the cities of Jacksboro, Henrietta, Decatur, Nocona, and surrounding areas. We're happy to service the 76230 zip code in Montague County. We regularly partner with business owners, property managers, school administrators at Bowie Independent School District, maintenance teams, and individuals to keep our city a clean and safe place.

We take great pride in offering high-quality roll off containers near me Bowie to keep our communities waste-free and clean. If you don't see your city or zip code listed, get in touch with us by giving us a call at (940) 531-8150 to see if we can provide our roll off dumpster rental Bowie in your area. We can usually make special arrangements to deliver outside of our services areas so contact us today to learn more about your affordable and convenient options.
5-Star Reviews for Our Bowie Roll Off Dumpster Rental Services
Roll Off Solutions is the go-to company for Bowie roll off dumpster rental! We're the preferred choice in the DFW area and we have the 5-star reviews to prove it. The best in customer service and waste management solutions, you don't need to look any further—you've already found the best dumpster service Bowie TX with our experienced and friendly team. We're grateful for the repeated support of our many customers and hope to earn your business too.

Whatever your residential or commercial goals, we're here to help each step of the way. Book your container online or give us a call at (940) 531-8150 to learn more about your options. Take a look at what some of our satisfied clients had to say about our Bowie roll off dumpster rental services: